This is part one of a series of articles about Neighborhood Watch programs.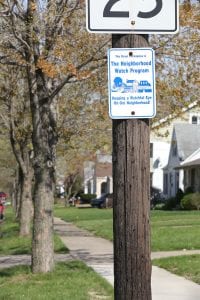 Each day, crime and the fear of crime threaten communities. Residents change their plans and lifestyles based on the fear of going out after dark. Parents and children are afraid to use local parks where criminals meet, and businesses refuse to put shops in areas they believe are unsafe. It often seems as if nothing can be done to make neighborhoods safer places to live and work.
But something can be done. Neighborhood Watches and community mobilization offer citizens the ability to work with law enforcement to prevent, and rid, neighborhoods of vandalism and crime. Proven to be one of the most effective and least costly answers to crime, Neighborhood Watches encourage residents to join together and be aware of activities around them in their daily lives.
WHY DO RESIDENTS MOBILIZE?
To get something done about an immediate problem
To problem solve on future goals
To gather resources for community needs
To improve the quality of life in their community
We invite your inquiry for more information about Neighborhood Watch programs. Contact Officer Tim Riley at (216) 623-5080.
(CONTINUED NEXT WEEK)
_
Neighborhood Watch Article Series
_
The Cleveland Police Foundation, in partnership with the Cleveland Division of Police and the Ohio Crime Prevention Association present these tips so citizens can help to make our community safer.