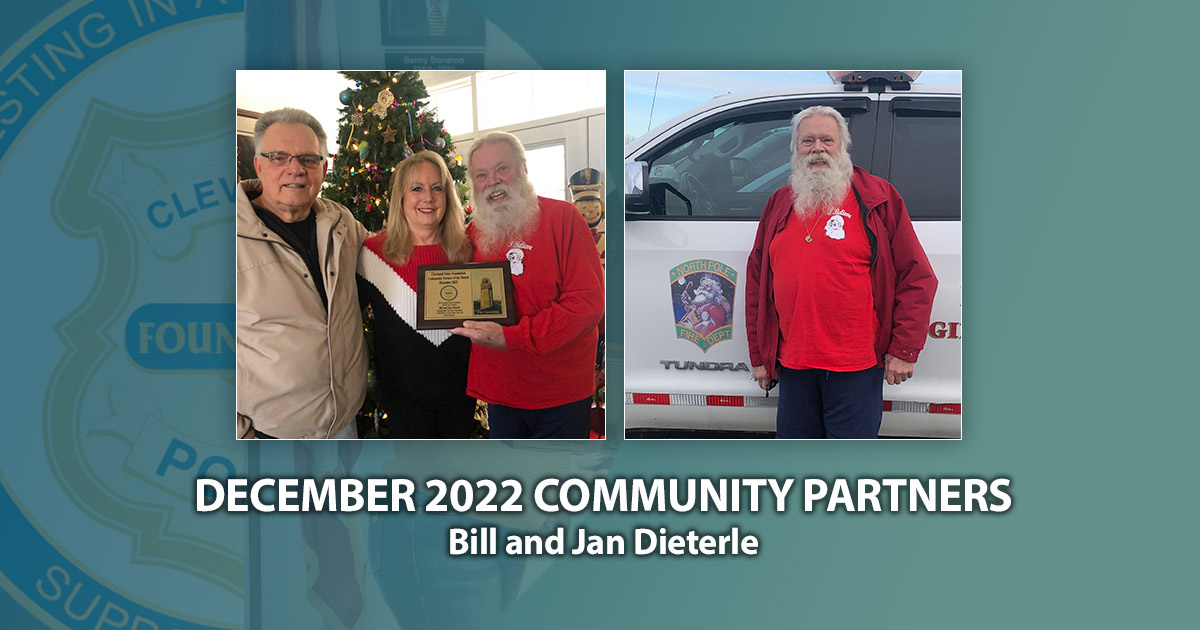 Don't tell our Community Partner of the Month for December 2022 that you don't believe in Santa Claus, because he will tell you he is that jolly old fellow himself. Bill and Jan Dieterle have been helping with the Cleveland Police Children's Holiday Party for over 10 years, and the children absolutely love them.
They are also caretakers of Santa's Hideaway in Middlefield, Ohio. This non-profit organization, founded in 1981, is dedicated to working with seriously and terminally ill children and their families to provide comfort and support throughout the final stages of the child's illness. Many children ask to see Santa for a last Christmas as they near the end of their struggle. Santa's Hideaway is committed to meeting that very need any time of the year, providing a retreat from the reality of the child's illness and creating wonderful memories instead. Santa has seen over 58,000 sick children over the last 30 years, and no one in the organization receives a salary as it is 100% volunteer driven.
When approached for comment on these two outstanding individuals, retired CPD Sergeant Bob Kumazec stated, "Bill and Jan Dieterle are two of the most selfless people I have ever met and are most deserving of this award." So, don't tell me there is no Santa Claus, I met him and I'm a believer. And, just as we have always been told, he is a true believer in spreading the Christmas spirit and absolutely loves our children.
It is because of their endless love for the children and their families shown throughout the year that the Cleveland Police Foundation is indeed honored to name Bill and Jan Dieterle as our Community Partners of the Month for December 2022.
– Bob Guttu, CPF

(Nominated by retired CPD Sergeant Bob Kumazec)
2022 CPOMs 2021 CPOMs 2020 CPOMs 2019 CPOMs 2018 CPOMs
---
About the Community Partner of the Month Program
The Cleveland Police Foundation has implemented the Community Partner of the Month Award, given to individuals from the community who strive to support the mission goals of The Cleveland Division of Police and the CPF. These good folks support law enforcement and continue on a daily basis to help improve their individual neighborhoods. Award recipients receive a plaque and appropriate recognition. Thank you to these achievers!