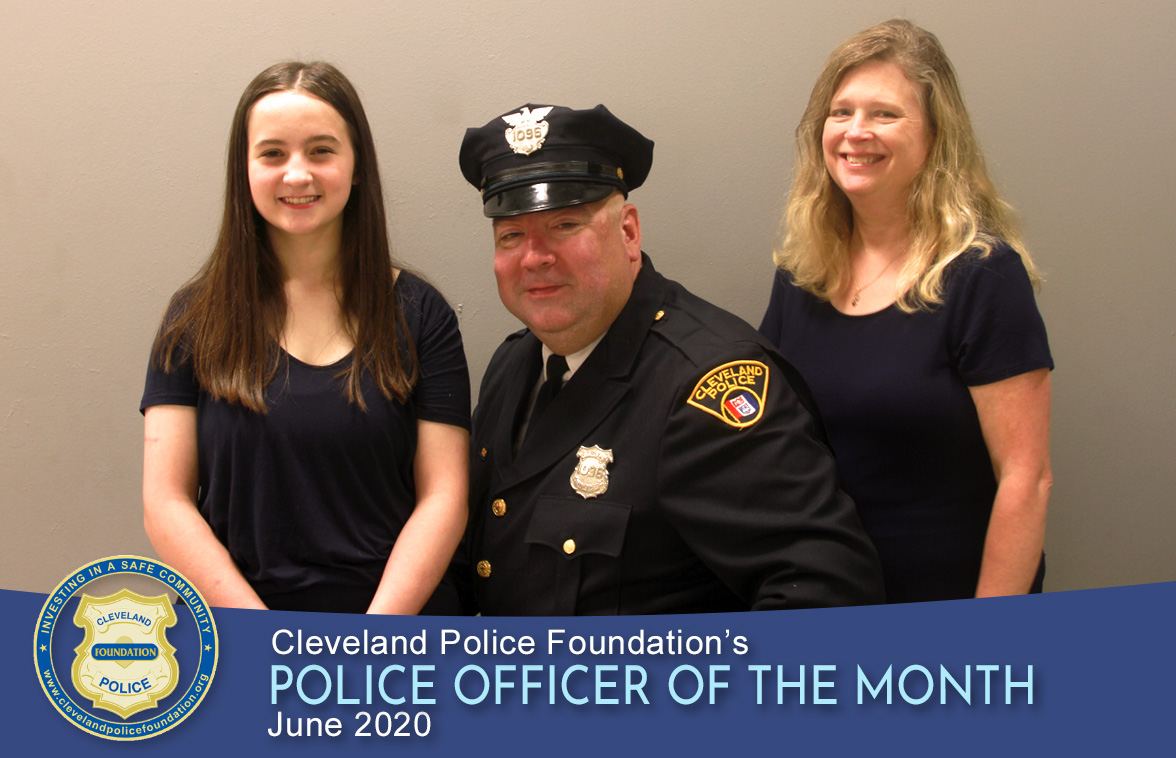 A different twist to the honor, Detective Todd Clemens of the Crime Scene and Records Unit is joined by his daughter Morgan and his wife Robin as awardees!!
Todd has worked in the Crimes Scene and Records Unit for about 10 years.  He has processed many horrific crime scenes, and the trauma began to affect him and his family.  To heal, Todd was able to take a break from his unit and began exercising at the Police Headquarters gym to relieve stress.  Often his family would join him in his workouts.  It was at this time that 14-year old Morgan noticed a large number of homeless people in the downtown area.
Morgan approached her father about wanting to do something to help the homeless and Todd suggested a hot, home cooked meal.  The first dinner Morgan and the family made was ham, mashed potatoes, corn, bread, a dessert and beverage.  The family packed up 10 meals and Todd and Robin drove Morgan to some of the homeless camps so she personally could deliver them.  The following week Morgan increased her meals to 20.  Thanks to generous donations from friends, family, and the Cleveland Police Foundation, Morgan, Todd, and Robin have been delivering meals for nearly 7 weeks.  Morgan wanted to do more, so she added deliveries to the sick, elderly, and shut-ins.  The family has raised enough money to continue to prepare and deliver delicious meals for the next several weeks, and of course Morgan insists on continuing to deliver meals on a weekly basis. Thank you to Todd, Robin, and Morgan for helping us witness love and compassion during a very difficult time!!
It is because of this giving and charity shown to the community that the Cleveland Police Foundation is proud to name Detective Todd Clemens, with his wife Robin and daughter Morgan, as its Police Officer of the Month for June 2020.
For more information on Morgan's meals for those in need you can go to "Morgan's Meals" on Facebook or contact Detective Todd Clemens.
2020 POMs 2019 POMs 2018 POMs   2017 POMs   2017 POMs   2016 POMs
---
About the Police Officer of the Month Program
The Cleveland Police Foundation – in partnership with the Cleveland Division of Police, Cleveland Police Patrolmen's Association, and the Fraternal Order of Police Cleveland Lodge 8 – is proud of the  Police Officer of the Month program. The program's purpose is to recognize members of the Cleveland Division of Police who not only perform their duties in an exemplary and extraordinary manner, but also excel in efforts that are consistent with a major tenet of the CPF's mission to strengthen the bonds between citizens and police officers… building bridges, creating opportunities for dialogue, and forging positive relationships within the community.
Already aware that officers in the Cleveland Division of Police routinely go out of their way to help their fellow citizens, committee members are not surprised by the large number of candidates. With so many outstanding officers, selecting one recipient per month proved to be a somewhat daunting task.
When asked why bestow these awards, CPF Executive Director Charles W. Lane, Jr. states, "In today's busy world, while some deeds may seem fairly insignificant, we hold out hope that such random acts of kindness may have a significant impact on a person's life. Even if not, it's nice to know that our police officers do for others what they would want someone else to do for a member of their family if the opportunity presented itself."
Police officers across this great country perform similar deeds day-in and day-out, with little fanfare and really not seeking, nor even wanting recognition. We commend these officers for their compassion and personal commitment to making our city a better place to live.