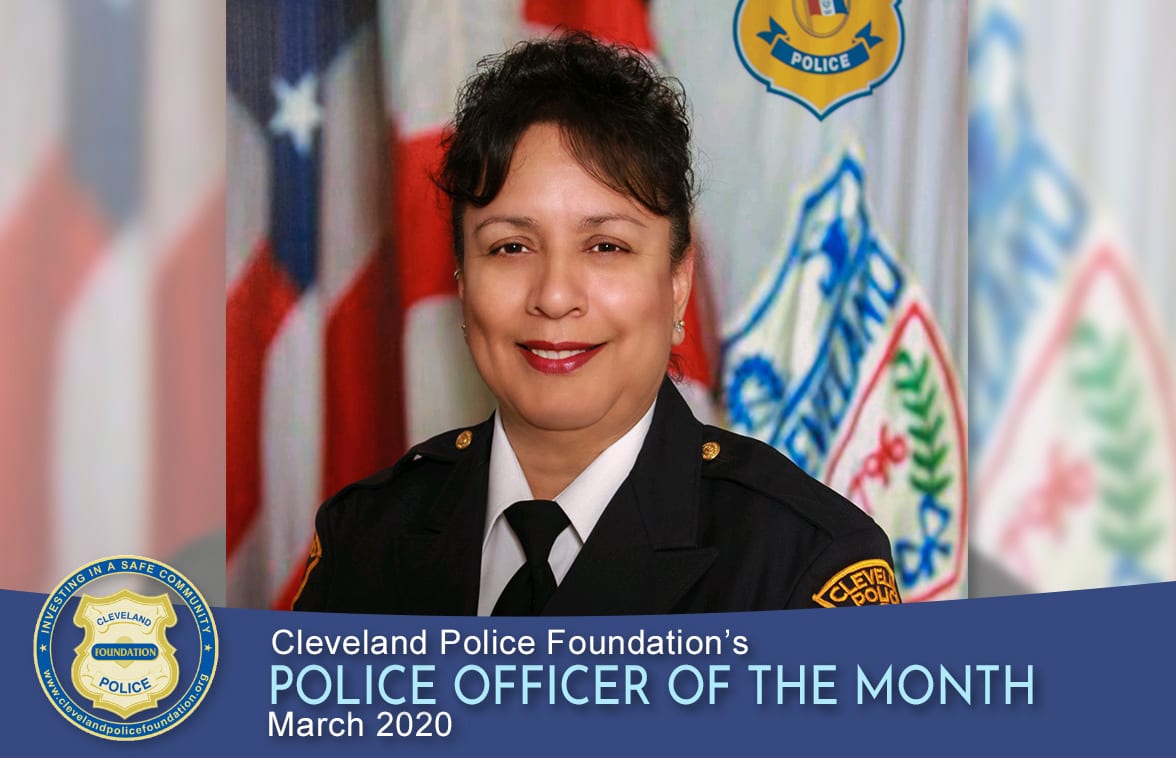 Sergeant Teresa Gomez is a twenty-three-year veteran with the Cleveland Division of Police and has been assigned to the Homicide Unit for approximately one year. In this short time, she has quickly made an impact!
Sergeant Gomez helped create a waiting room that not just benefits the Division of Police but also the community at large. This waiting room, now called the Grace Leon Room, came to fruition with support from the folks at Blue Line Services, who donated items and their time. Gomez felt it necessary that the family of victims have a warm, comforting and calming room as they deal with the loss of their loved one. She firmly believes that reciprocity with the community begins with building and establishing trust.
Sergeant Gomez continued to look for ways to enhance the services that the Homicide Unit could offer the community. When in California on vacation, she went to the Los Angeles and San Diego Police Department Homicide Units to generate ideas, using her own time and resources to go above and beyond the call of duty. To make Cleveland police more efficient and effective, the sergeant helped create a state of the art conference room, called the HUTT (Homicide Unit Think Tank). The HUTT Room benefits not just the detectives of the homicide unit but is open to the families, witnesses and attorneys. Most recently the HUTT room was made available for the Public Safety Partnership (PSP) as they conducted their interviews. Both the Grace Leon Room and HUTT Room became a reality through the persistence of Sergeant Gomez.
Sergeant Teresa Gomez does not take no for an answer! She considers it a challenge to bring about positive changes within the Cleveland Division of Police!!
Lieutenant Ali Pillow from the Homicide Unit says of Gomez, "Under Sergeant Gomez, the Homicide Unit has changed procedures that had been in place for over twenty years. These changes include case files, case tracking, assignment logs and the filing system. These changes have assisted detectives with their organization and assisted supervisors with the review of investigations. Sergeant Gomez was able to implement these changes without disrupting the unit's heavy workload."
It is because of her dedication to the Cleveland Division of Police and the community she serves that the Cleveland Police Foundation is proud to name Sergeant Teresa Gomez as its Police Officer of the Month for March 2020.
2020 POMs 2019 POMs 2018 POMs   2017 POMs   2017 POMs   2016 POMs
---
About the Police Officer of the Month Program
The Cleveland Police Foundation – in partnership with the Cleveland Division of Police, Cleveland Police Patrolmen's Association, and the Fraternal Order of Police Cleveland Lodge 8 – is proud of the  Police Officer of the Month program. The program's purpose is to recognize members of the Cleveland Division of Police who not only perform their duties in an exemplary and extraordinary manner, but also excel in efforts that are consistent with a major tenet of the CPF's mission to strengthen the bonds between citizens and police officers… building bridges, creating opportunities for dialogue, and forging positive relationships within the community.
Already aware that officers in the Cleveland Division of Police routinely go out of their way to help their fellow citizens, committee members are not surprised by the large number of candidates. With so many outstanding officers, selecting one recipient per month proved to be a somewhat daunting task.
When asked why bestow these awards, CPF Executive Director Charles W. Lane, Jr. states, "In today's busy world, while some deeds may seem fairly insignificant, we hold out hope that such random acts of kindness may have a significant impact on a person's life. Even if not, it's nice to know that our police officers do for others what they would want someone else to do for a member of their family if the opportunity presented itself."
Police officers across this great country perform similar deeds day-in and day-out, with little fanfare and really not seeking, nor even wanting recognition. We commend these officers for their compassion and personal commitment to making our city a better place to live.