"We are pleased to be able to provide these libraries in our stations and making books readily available to children and encouraging positive interaction with our police officers." – Chief Calvin D. Williams
LFL Now in All CPD Neighborhood Stations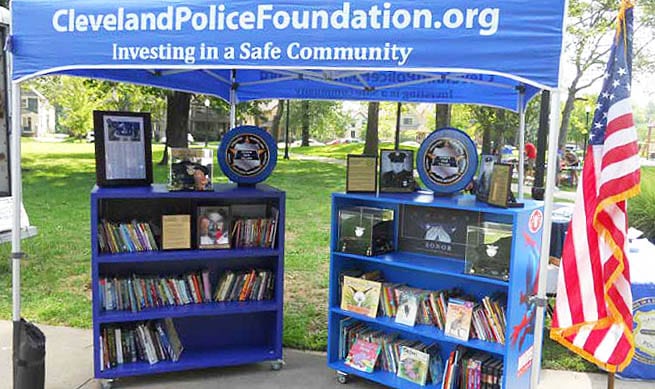 Joining in a nationwide effort to improve literacy and making police station lobbies more inviting and kid-friendly, the Cleveland Police Foundation and the Cleveland Division of Police partnered to open the last of seven Little Free Libraries in CPD facilities in 2016. With the placement of the two new units, Little Free Libraries are now located in all five Neighborhood Police District Headquarters throughout the City, in the Sex Crimes and Child Abuse Unit, and the lobby of CPD headquarters.
Little Free Libraries is a national program that helps to promote literacy by placing unique libraries in various locations and providing access to literature. Children are encouraged to read or take a book, then bring it back or replace it with another book that they have enjoyed.
Books for the libraries are supplied mainly through donations from police officers and their families, citizens and community groups. The initial supply came from a huge donation of 1,000 books from the students at Chardon Middle School.
All seven of the CPD's Little Free Libraries honor the memories of Cleveland Police Officers and one FBI agent who died in the line of duty. The library in the First District is dedicated to the memories of Detective Jonathon Schroder and Detective Robert Clark, killed in the line of duty August 31, 2006 and July 1, 1998 respectively; and the Fifth District's library is dedicated in the memory of Patrol Officer John Hubbell, killed in the line of duty on June 4, 1979. Other libraries honor the memories of FBI Special Agent Johnny Oliver (D-2), and Cleveland Patrol Officers Wayne Leon (D-3) and Derek Owens (D-4). All were shot and killed in the line of duty.
The last two libraries were a result of a great collaborative effort. Materials were purchased from donations from the family of fallen Patrol Officer John Hubbell, the Greater Cleveland Peace Officer Memorial Society, Conveyer & Casters Corporation, and RGI International of North Ridgeville. The United Brotherhood of Carpenters & Joiners Union Local 435 and the Pre-Apprenticeship Training Program of the Cleveland Job Corps Center teamed up to donate the labor to build them, a savings estimated to be $2,400.
The Little Free Libraries in other CPD facilities were also a result of the generosity of many individuals and organizations that contributed to the effort. Special thanks to: Akeesha Abdullah, Margaret Bernstein, Chadwick Literacy Foundation, Chardon Middle School, FBI, Citizens Academy Foundation of Cleveland, Cleveland Job Corps Center, Conveyer & Casters Corporation, Federal Bureau of Investigation Cleveland Office, Greater Cleveland Peace Officers Memorial Society, the Grealis and Hubbell families, Ryan Ireland, Scott Labuda, Ted Pinnock, RGI International, Setta Trophy, Dan Volpe and David Lummis of the United Brotherhood of Carpenters and Joiners Union Local 45, the Vascular Medicine Department of Cleveland Clinic, WKYC-TV, and all who made financial contributions.