CPF Police Officer of the Month Award Recipients
2016 CPF Police Officer of the Month Award Recipients
We are honored to introduce the inaugural class of Police Officers of the Month. Recipients will receive a personal plaque in recognition of their good deeds, and perpetual plaques will be displayed at Cleveland Police Headquarters, the offices of the Cleveland Police Patrolmen's Association, and the Fraternal Order of Police Cleveland Lodge 8 where they will serve as an inspiration to others.
JANUARY

Police Officer of the Month

Patrol Officer Jose Sabala, 1st Neighborhood Police District

Patrol Officer Sabala was called to investigate a homeless man camped out in front of an apartment building. Upon arrival, he located the man who said he didn't feel safe in a homeless shelter and was staying on the street despite temperatures plunging to 15 degrees. Sabala noticed that the man had no shoes. Without hesitation, he gave him his work boots. After determining the male did not need medical attention or emergency intervention and was safe, Sabala requested permission to go home and get another pair of boots so he could continue his tour of duty. Playing down his action and wanting no recognition, PO Sabala's fellow officers thought enough of his deed to nominate him for the award.
"Cleveland police officer gives homeless man the shoes off his feet" – Fox 8, Jan. 12, 2016
FEBRUARY

Police Officer of the Month

Sergeant Mitchell Sheehan, 2nd Neighborhood Police District

In 2015, Sergeant Sheehan, in speaking with a manager of a program working with the homeless, learned of an acute shortage of certain articles of clothing. Sheehan took action and organized a drive to collect and donate underwear and socks. With the assistance of officers from the 2nd District and citizens working with the police, the effort was a huge success and a local shelter was able to provide an adequate supply to those in need. This year, the drive was repeated and it grew in participation and donations, with the collection of over 800 pairs of socks, 500 pairs of underwear, as well as a mountain of jackets, blankets, scarves, hats, gloves and other items needed to fulfill the demand at homeless shelters in the area. The organizations then distributed the items as needed throughout the winter.
MARCH

Police Officer of the Month

Sergeant Timothy Maffo-Judd, 5th Neighborhood Police District

As a Patrol Officer and continuing after his promotion, Sergeant Maffo-Judd has consistently participated in community policing and engagement efforts. Some of his deeds include organizing the St. Martin De Porres Center clothing and gift drive, assisting with the 2nd District clothing drive for the homeless, providing bikes for children, and during the last two Christmas holiday seasons, assisting with the Bureau of Community Policing's efforts to distribute gift cards obtained through donations to the Cleveland Police Foundation to citizens in need.
APRIL

Police Officer of the Month

Patrol Officers Nicole Corea and Travis Eubanks, 5th Neighborhood Police District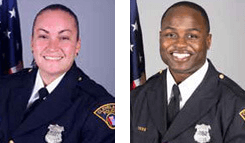 While on patrol one evening, POs Corea and Eubanks came upon a female panhandling at an intersection near an off ramp of I-90. They stopped to talk to the woman and learned that she needed money to feed her two children. With the assistance and permission of their supervisor, a call was made to a local shelter and arrangements were made for the officers to pick up the food and deliver it to the woman and her family.
"Act of kindness: Cleveland police officers help woman who needs money to feed children" – Fox 8, Feb. 16, 2016
MAY

Police Officer of the Month

Lieutenant Brian McEntee, 4th Neighborhood Police District

A young mother contacted Lieutenant McEntee at the 4th District and informed him that her daughter was turning four years old, and all she wanted for her birthday was to visit a police station. McEntee learned that the child liked teddy bears, and wanted a police uniform, badge, and a ride in a police car. The wheels began turning and with the help of other officers, they proceeded to give the youngster a very cool CPD birthday party, complete with a tour of the building and a ride in a zone car. Afterwards, cake and ice cream were served and the youngster was provided with a uniform complete with a hat, handcuffs, radio, and model police car. After the officers sang Happy Birthday, the child posed for pictures with her new friends. When leaving, she promised to come back very soon and visit again.
"Cleveland Police Department Makes Girl's Birthday Wish Come True" – ABC News, March 11, 2016
JUNE

Police Officer of the Month

Patrol Officers Michael Harper and Nicholas Lombardi, 5th Neighborhood Police District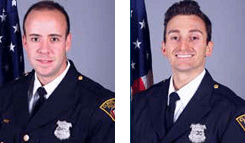 Patrol Officers Harper and Lombardi met a young girl at the Boys and Girls Club in their area and struck up a quick friendship with her. She felt comfortable enough to ask the officers if they would come to her birthday party the next week. The officers made note of the date and surprised her by not only showing up at the party, but also bringing the cake! Everyone was very grateful for the officers taking the time to make the day even more special with their visit to wish their new friend a happy birthday.
JULY

Police Officer of the Month

Captain Thomas Mandzak, 2nd Neighborhood Police District & Commanding Officer, Bicycle Patrol Unit

The CPD Bicycle Unit, under the command of Captain Mandzak, made a huge impact during the Republican National Convention. Intended to be adaptable to all situations as well as mobile and responsive in heavy traffic, their intensive training months before ensured that they were that, and more. Residents commented how impressive they looked riding down the street in formation and even applauded them as they toured the East Bank of the Flats. Not only great in quick emergency response and crowd control situations, they were also incredible at engaging the community. Wherever they went, people loved to stop and talk to the officers and take photos. The members even made a dream come true when they encountered a young man riding a broken-down bike. Captain Mandzak and the officers arranged to get him a brand new bicycle donated from the manufacturer.
AUGUST

Police Officer of the Month

Deputy Chief Edward J. Tomba, Bureau of Special Investigations

For many years, Deputy Chief Tomba has worked in the development and implementation of programs that bridge the efforts of law enforcement and social services to respond to children and families whose lives have been devastated by violence. Additionally, he led the CPD's preparation and implementation of its operational plan for the Republican National Convention, which also included engaging social service agencies and staff in working together in order to maximize the safety and dignity of those struggling with homelessness and other mental health issues during the RNC and throughout the year. Through his words and actions, Deputy Chief Tomba exemplifies community engagement and compassion for all.
SEPTEMBER

Police Officer of the Month

Detective Sean Smith, 5th Neighborhood Police District

A tiny dog fell into a street sewer drain one afternoon and its frantic owner called 911 for assistance. Officers from the 5th District arrived on scene, learned that the dog was very old and blind, and determined that it was in danger of being lost forever if not recovered expeditiously. The dog's owner, who was handicapped, was distraught and near panic. Detective Smith, a noted dog lover who started the rescue group "Badges For Bullies" that works to save dogs from fighting rings, heard the radio broadcast and also responded. The officers pried open the manhole cover and Smith climbed down…. searching the sewer and eventually locating the dog. He carried it up and returned the dog to its grateful owner… a bit dirtier but no less worse for the wear.
"Award worthy: Cops rescue pooch from sewer" – WKYC, Dec. 2, 2016
OCTOBER

Police Officer of the Month

Patrol Officer Bohdan Roshetsky, 4th Neighborhood Police District

On bike patrol downtown during the Republican National Convention, Patrol Officer Roshetsky noticed a small group praying on the street. He felt that this moment was too compelling to ignore, so he approached and asked if he could join them in prayer. Upon completion, they became engaged in conversation and the group voiced their concerns for the safety and well-being of citizens, police, and our city during the RNC. Roshetsky assured them that the CPD and their LE partners would be doing their best to maintain the peace. One of the group's members was from the city's southeast side and was familiar with "Officer Bo's" work and advised the others that he was "good people" and his word was good. Their fears allayed, the group hugged each other and agreed to be ambassadors for peace and understanding for the coming days of the RNC.
NOVEMBER

Police Officer of the Month

Detective Daniel Lentz, 1st Neighborhood Police District

Coming from a family with a long history of police service, it's no surprise that Detective Lentz understands the importance of giving back to the community. On a Saturday off from work, he took time to brighten the spirits of a young boy he befriended from the area he works who's battling cancer. Lentz made him an honorary Cleveland police officer for the day, outfitted him in a CPD uniform, arranged for him to receive tickets to the Indians game, and gave him a ride to the game in a police car. The boy was thrilled to be Lentz's partner for the "tour."
DECEMBER

Police Officer of the Month

Patrol Officers Salvatore Santillo and Shawn Wohl, 4th Neighborhood Police District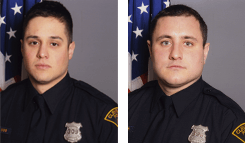 On October 25, 2016 Patrol Officers Salvatore Santillo and Shawn Wohl responded to a call of children left home alone. Upon entering the premises with members of the Department of Children and Family Services they found three boys ages 1, 3, and 6, confined to one room and the home in deplorable conditions. The mother was finally located and arrested and the children were taken to their grandmother's home. Since that day these officers have been making regular visits to the grandmother's house to see the boys. As word got out about this story people have contacted the officers and have donated toys, coats, clothing, school supplies, and diapers to help grandma out. The officers delivered the donated items and are happy to report the kids are healthy and getting back to normal.