CPF Police Officer of the Month Award Recipients
2020 CPF Police Officer of the Month Award Recipients
Recipients will receive a personal plaque in recognition of their good deeds, and perpetual plaques will be displayed at Cleveland Police Headquarters, the offices of the Cleveland Police Patrolmen's Association, and the Fraternal Order of Police Cleveland Lodge 8 where they will serve as an inspiration to others.
May

Police Officer of the Month

Patrol Officer Lakisha Harris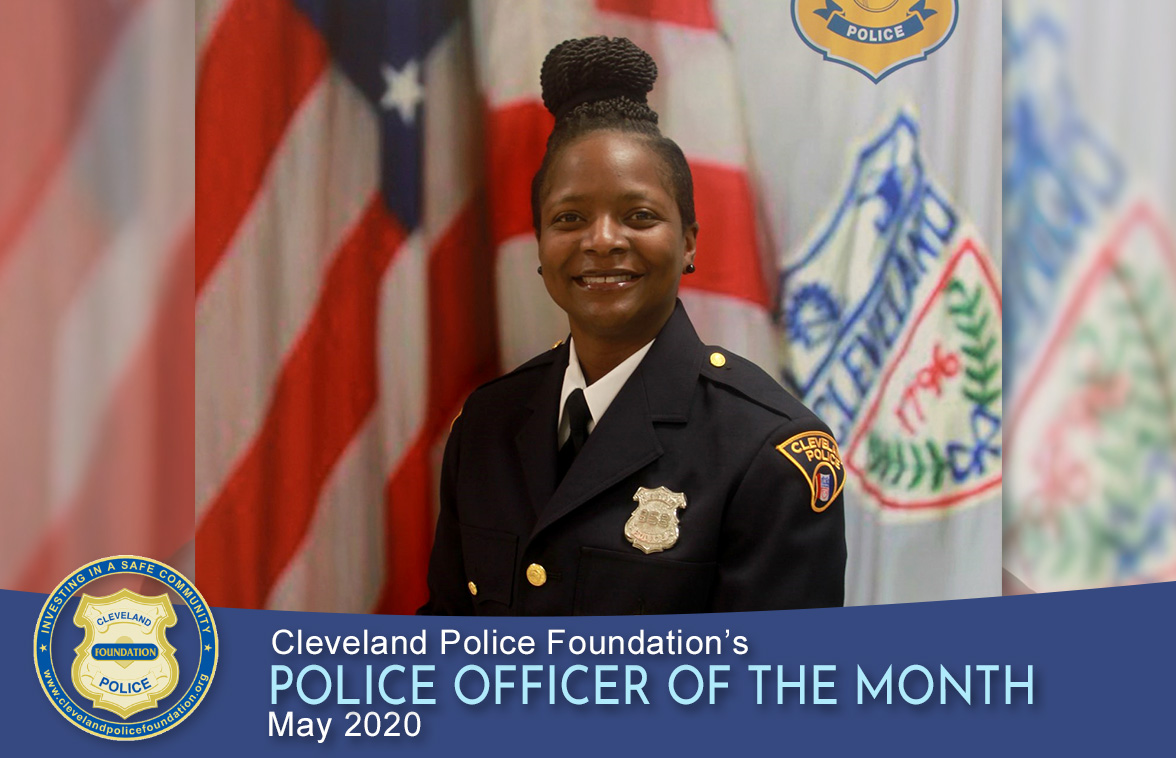 Patrol Officer Lakisha Harris is the full-time training coordinator for the Cleveland Division of Police Fifth District but still manages to find time for numerous community policing projects.
Throughout and around the district, Officer Harris has participated in food giveaways and provides security for the Cleveland Food Bank to ensure their giveaways are fair and orderly. On one day in particular, Officer Harris worked over her assigned time without a break to ensure that the food bank handed out the maximum amount of food, even after the event had ended.
When asked about Officer Harris' work ethics, Lieutenant Marcus Montanaro stated "As you know with our current state of emergency, it is nearly impossible to spend time with the elderly of our community. However, Officer Harris has donated her hard-earned money as well as her time in securing toiletries and cleaning supplies for events like the 100 Goodie Bag donation drive benefiting seniors of the Margaret Wagner House. In addition to helping the elderly, Lakisha is now spending her time and resources to obtain future donations to help infants and toddlers at the Jane Hunter Social Services Center. Even though Officer Lakisha has a full-time position as training coordinator, she still manages to find time to do all of the above and much, much more."
It is because of her dedication to the community she serves that the Cleveland Police Foundation is proud to name Patrol Officer Lakisha Harris as its Police Officer of the Month for May 2020.
April

Police Officer of the Month

P.O. Carmen Hall, P.O. Crystal Lewis, and P.O. Antonio Andino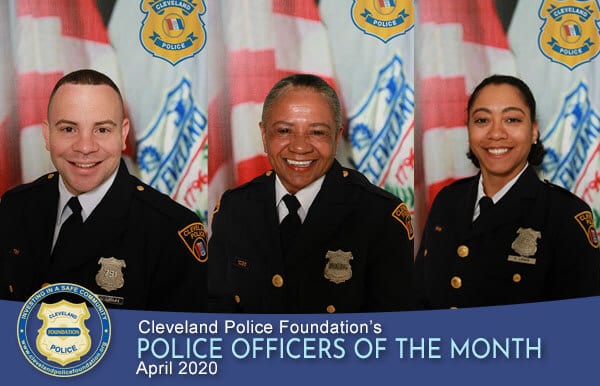 Fourth District Community Engagement Officers P.O. Carmen Hall, P.O. Crystal Lewis, and P.O. Antonio Andino are exceptional. These officers have done some very innovative and creative projects to help create a better relationship between Cleveland police officers and the community served. They are always looking for different avenues to bring together officers and the community and they always have a smile and a great deal of energy wherever they go!
Fourth District Lieutenant Steve Cornacchione says: "The Fourth District CEOs have come up with new and exciting ways to reach the community here in the Fourth District. P.O. Lewis and P.O. Andino started a lunch program that brings together neighborhood officers and students, allowing the kids to interact with the officers. We all know that the younger kids always want to see the officers' equipment, so they made police vests with real Junior Police badges that the kids can try on. A unicycle club was started at one of the local schools, Eastside Arts Academy. This is run by P.O. Carmen Hall."
"The CEOs have set up dinners with community groups featuring a question and answer session with officers focusing on bridging the gap so we as a community can better understand each other. They have made inroads with two high schools–JFK and John Adams–to start getting engagement opportunities between officers and students. Lastly, during these times of social distancing they have continued to reach out to citizens by utilizing social media and continuing to forward complaints to officers in the field."
"Officers Lewis and Andino have been helping maintain morale by setting up meals for their Fourth District family as well as making sure supplies are getting to them in a timely manner. These are just some of the things that the Fourth District CEOs do on a daily basis."
It is because of this dedication to bringing the community and police officers together that the Cleveland Police Foundation is proud to name Patrol Officers Antonio Andino, Carmen Hall, and Crystal Lewis as its Police Officers of the Month for April 2020.
March

Police Officer of the Month

Sergeant Teresa Gomez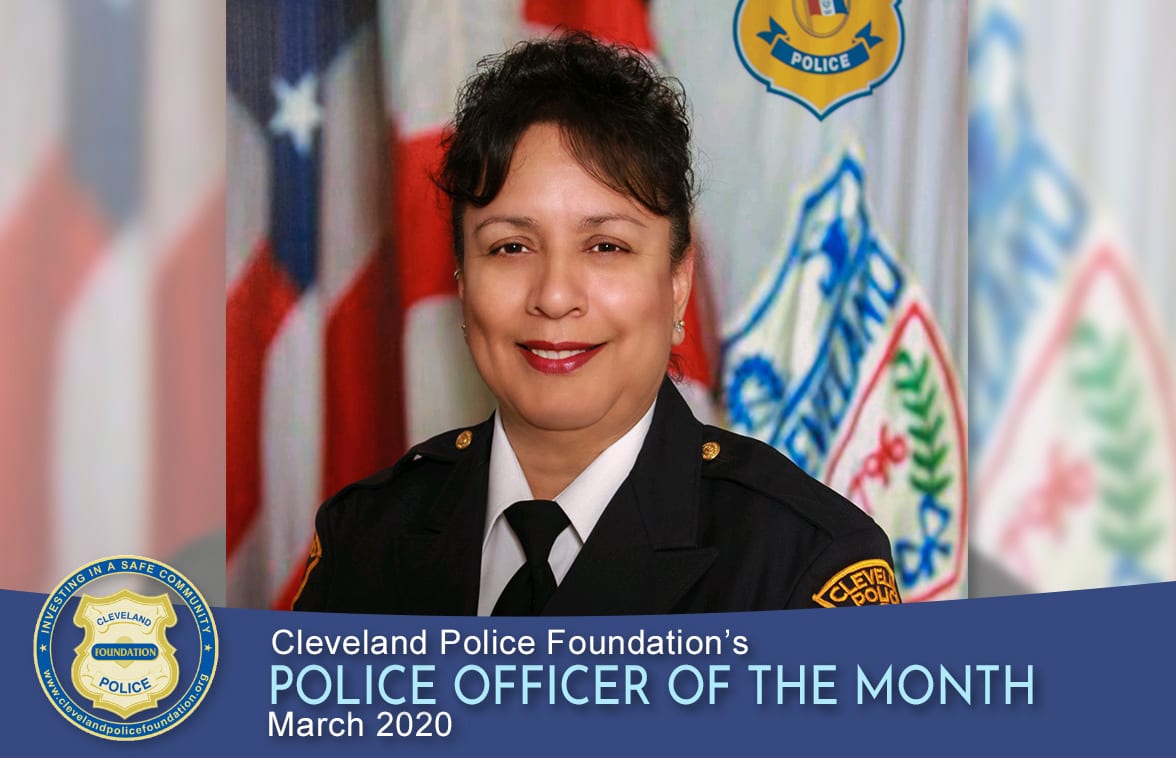 Sergeant Teresa Gomez is a twenty-three-year veteran with the Cleveland Division of Police and has been assigned to the Homicide Unit for approximately one year. In this short time, she has quickly made an impact!
Sergeant Gomez helped create a waiting room that not just benefits the Division of Police but also the community at large. This waiting room, now called the Grace Leon Room, came to fruition with support from the folks at Blue Line Services, who donated items and their time. Gomez felt it necessary that the family of victims have a warm, comforting and calming room as they deal with the loss of their loved one. She firmly believes that reciprocity with the community begins with building and establishing trust.
Sergeant Gomez continued to look for ways to enhance the services that the Homicide Unit could offer the community. When in California on vacation, she went to the Los Angeles and San Diego Police Department Homicide Units to generate ideas, using her own time and resources to go above and beyond the call of duty. To make Cleveland police more efficient and effective, the sergeant helped create a state of the art conference room, called the HUTT (Homicide Unit Think Tank). The HUTT Room benefits not just the detectives of the homicide unit but is open to the families, witnesses and attorneys. Most recently the HUTT room was made available for the Public Safety Partnership (PSP) as they conducted their interviews. Both the Grace Leon Room and HUTT Room became a reality through the persistence of Sergeant Gomez.
Sergeant Teresa Gomez does not take no for an answer! She considers it a challenge to bring about positive changes within the Cleveland Division of Police!!
Lieutenant Ali Pillow from the Homicide Unit says of Gomez, "Under Sergeant Gomez, the Homicide Unit has changed procedures that had been in place for over twenty years. These changes include case files, case tracking, assignment logs and the filing system. These changes have assisted detectives with their organization and assisted supervisors with the review of investigations. Sergeant Gomez was able to implement these changes without disrupting the unit's heavy workload."
It is because of her dedication to the Cleveland Division of Police and the community she serves that the Cleveland Police Foundation is proud to name Sergeant Teresa Gomez as its Police Officer of the Month for March 2020.
February

Police Officer of the Month

Patrol Officer Gerson Martinez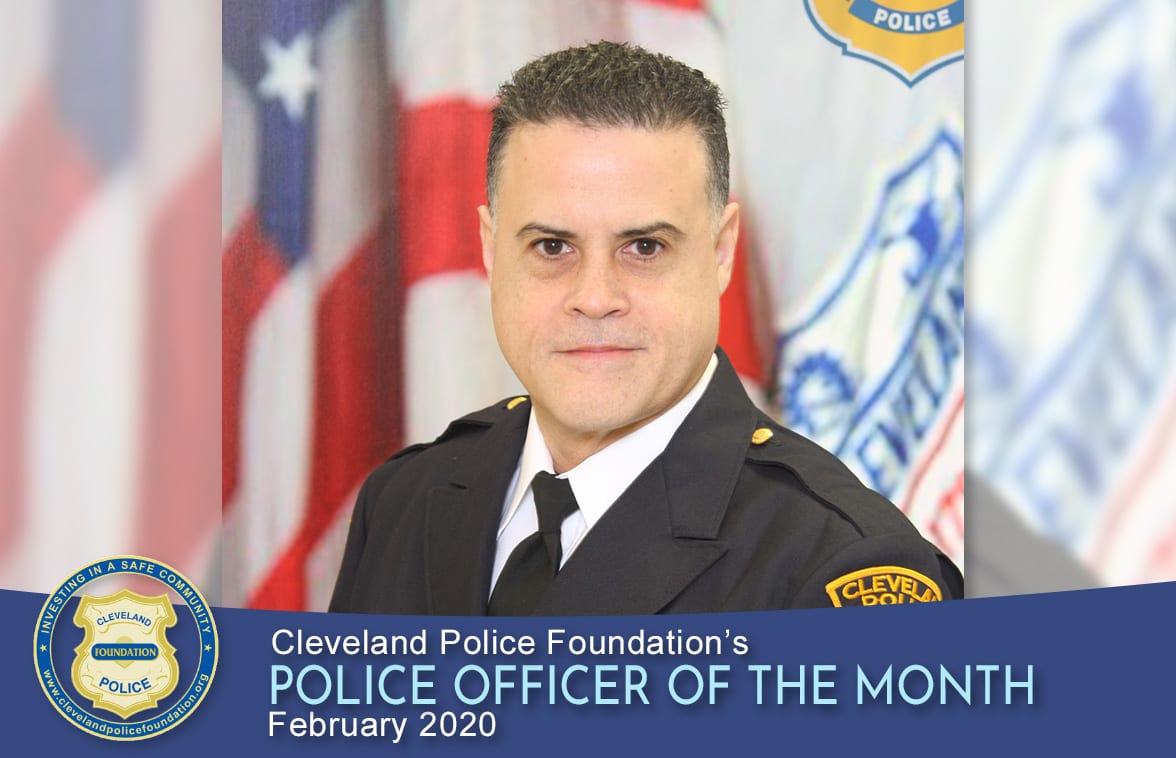 Patrol Officer Gerson Martinez is a 26-year veteran of the Cleveland Division of Police, assigned to the Westside Market for the last five years.  In addition to his security duties there, he serves as Goodwill Ambassador to the tens of thousands of residents and visitors that yearly flock to this Cleveland landmark.
Officer Martinez does volunteer work at La Iglesia de Dios (The Church of God) where his father was pastor.  Gerson also plays drums three days a week in the church choir.
Early in his career, Officer Martinez was chosen out of approximately 200 officers to work in the Residential Area Policing Program.  RAPP, as it was known, was an effort to assign officers to specific neighborhoods to work closely with at-risk youths.  More recently, Gerson volunteered to work with Rainbow Babies and Children's Hospital on their Car Seat Safety program.  In that role, Gerson helps to educate the public on infant car seat safety and installation.
When asked about Officer Martinez, Second District Commander Thomas Stacho stated, "Officer Gerson Martinez is humble, polite, soft-spoken, dedicated and is the very embodiment of a professional police officer."
It is because of his diligence to duty and dedication to the community he serves that the Cleveland Police Foundation is proud to name Patrol Officer Gerson Martinez as its Police Officer of the Month for February 2020.
January

Police Officer of the Month

Patrol Officer Jeff Petkac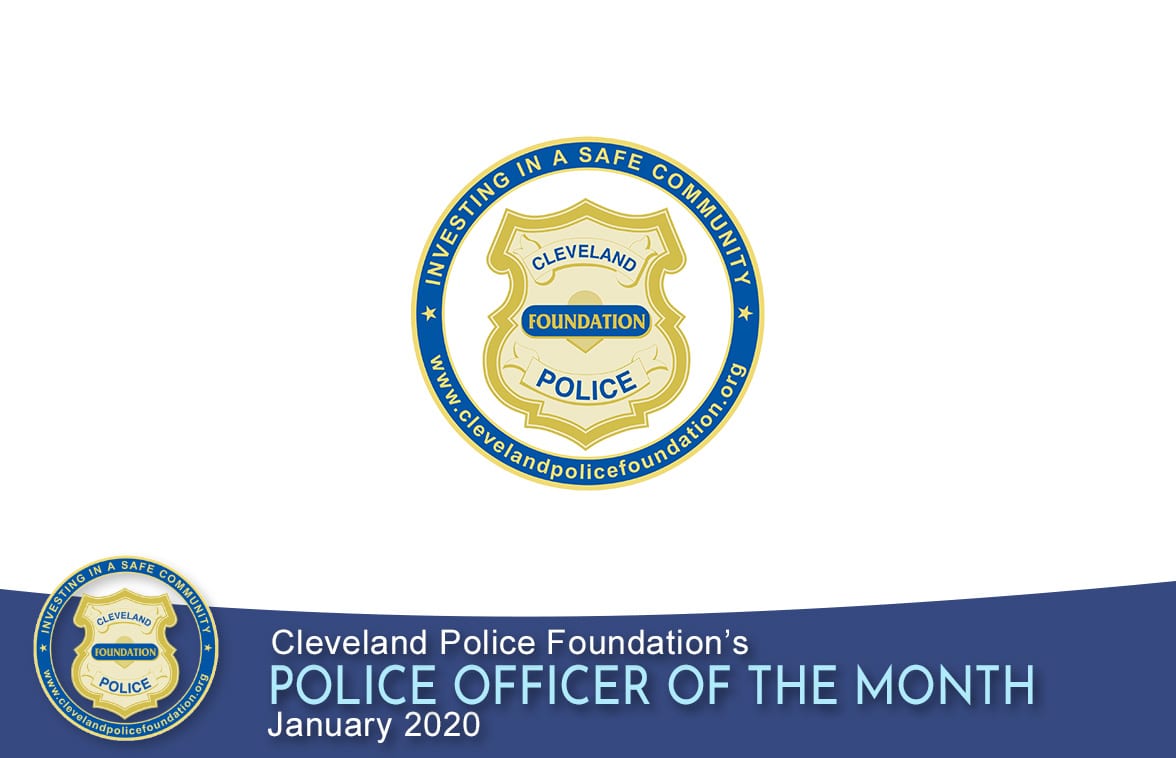 Officer Jeff Petkac is assigned to the Third District Safety Patrol where he is not only committed to the Community Policing concept but is always first to volunteer his time to assist those in need.
Officer Petkac also likes working with the children in the community and has assisted with the Cops & Kids program since 2006 and the Cleveland Police Athletic League since 2010. When asked about his involvement with the kids in the community Officer Petkac stated, "We did more than just 'give out toys' during the Christmas season – we also bought school supplies for needy kids, and a bike, helmet and lock for a young boy who had his bike stolen. We even delivered a washer and dryer to a family in need whose kids were being picked on because of their dirty clothes. I have to say the 'things' we gave away were nice but the positive interaction we had with the kids is what meant (and continues) to mean the most to me."
When asked about Officer Petkac, Executive Director of the Cleveland PAL Bob Kumazec stated, "Jeff has been a loyal and dedicated volunteer for over 14 years and has sacrificed his time and many times his own funds to help the less fortunate in our community."
It is because of his dedication to the community that the Cleveland Police Foundation is proud to name Patrol Officer Jeff Petkac as its Police Officer of the Month for January 2020.