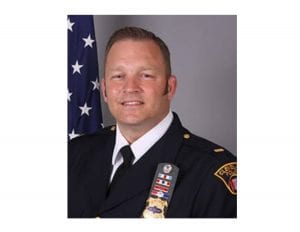 Cleveland's Finest, Lieutenant Ed Lentz happened to be first on the scene at a house fire on West 8th Street, south of Starkweather in the Tremont Neighborhood.
The lieutenant kicked in the door, rescued a dog (Jethro), and then made sure the cars on this narrow street were moved to allow access for the arriving Cleveland Fire Companies.
The fire fighters quickly extinguished the blaze with no reported injuries.  The cause was determined to be accidental-electrical.
Remember to keep space clear around air conditioner units and dehumidifiers and ensure they are plugged directly into a grounded wall socket, not an extension cord.
Stay safe!
(Editor's note:  Lieutenant Lentz was the CPF July 2017 Police Officer of the Month)