The Cleveland Police Foundation is honored to recognize Patrol Officers Ryan Lewis, Roger Jones and Malcom Sutton as the July 2020 Police Officers of the Month.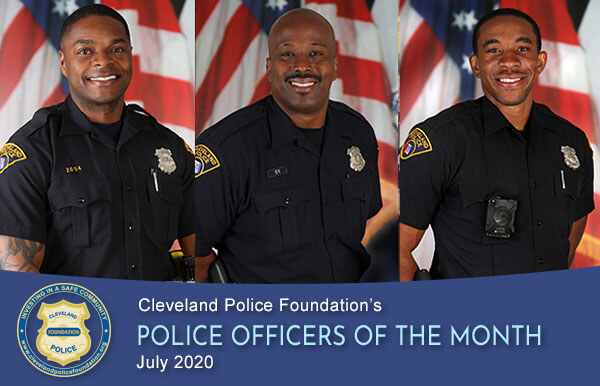 Third District Community Engagement Officers P.O. Ryan Lewis, P.O. Roger Jones, and P.O. Malcom Sutton are outstanding. According to Third District Lieutenant John Farnsworth, "Their duties are to engage with members of the community in a positive manner, and how they complete this is open to their imagination and innovation. They sure have made a name for themselves in accomplishing these goals!"
Before the COVID-19 pandemic struck the nation, they would reach out to the daycares and schools and speak with the kids. At Bolton Elementary they ate lunch with the K-8 students which of course opened up a dialogue in a setting that was comfortable for them. Also before the COVID-19 concern, the officers responded to the local middle and high schools for a game of kickball or basketball during the kids' Physical Education classes.
Twice weekly, this ambitious trio checks in with their ward city council members to assist their constituents with quality of life issues. They spend countless hours at  local senior centers and homeless shelters, providing another avenue for open dialogue to sections of the community who may not always see that opportunity.
It is because of their dedication and devotion to the community they serve that the Cleveland Police Foundation is proud to name Patrol Officers Ryan Lewis, Roger Jones, and Malcom Sutton as its Police Officers of the Month for July 2020.
More about the Police Officer of the Month Program . . .