On August 22, 2015 the City of Cleveland held the ninth annual Handgun Buyback Program at the new Third District facility located at 4501 Chester Avenue. In exchange for operable handguns or semi-automatic rifles, citizens were given either $100 (handgun) or $200 (semi-automatic rifle) gas or food gift cards and two tickets to an upcoming Gladiator or Lake Erie Monster game.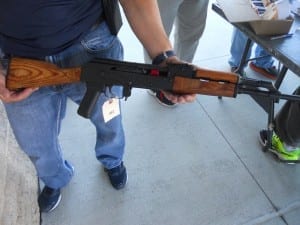 Upon arrival at the exchange citizens turned weapons over to Ordinance Officers from the Division of Police where they were checked to make sure they were unloaded, then registered to be destroyed at a later date. I spoke with a participant, Kevin Chapman, after turning in his weapon and he stated, "I am very glad I found an outlet to get rid of this gun so I don't have to worry about it getting into the wrong hands."
His feelings were echoed by Chief Calvin Williams who attended and stated "We know that as a result of this program someone's life will be saved, and we are encouraged that the Police and community are working together to get these guns off the street."
We would like to thank the following sponsors for making this event a success: The Cleveland Police Foundation, Tru-North Shell, ArcellorMittal, Cleveland Gladiators, Burt Saltzman (owner of Dave's Supermarkets), The Lake Erie Monsters, and the Cleveland Police Patrolman's Association.
President of the C.P.P.A. Steve Loomis also attended the event and stated, "This is a great event because it gets guns off the streets – which will benefit not only the citizens in the neighborhood, but our officers as well." Over 150 weapons were turned in including handguns, rifles, shotguns, and an AK 47 – one of the most dangerous and feared weapons our officers come across while performing their duties. All in all it was a very successful day knowing that these weapons can no longer be used to hurt or maim anyone.