TRIBUTE TO THE BLUE: A TRIBUTE TO THE MEN AND WOMEN IN BLUE
An A-1 Affair with Accolades, Appreciation and Acknowledgement
Recognition of Excellence in Community Service: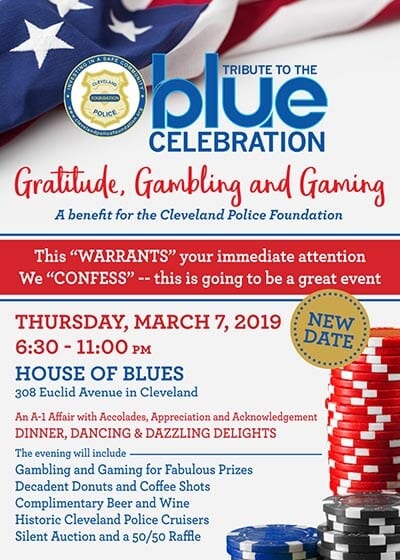 The Edward A. Lozick Memorial Man of the Year Award
ALEX MACHASKEE
The Samuel H. Miller Police Officer of the Year Award
PATROL OFFICER ERWIN EBERHARDT
DETECTIVE MICHAEL BELLE
DETECTIVE CARL BOWERS
The Thomas D. Ganley Memorial Community Service Award
SKYLIGHT FINANCIAL GROUP
The Cleveland Police Foundation Founders Award
WOODS KING, III, Esq.
Community Partners of the Year
ROSE ROY
ALICE WEGROCKI
Special Recognition Award
STEVEN D. ANTHONY, FBI Special Agent in Charge, Cleveland Division
Honorary Chairs
Bill Denihan
Calvin D. Williams, Chief of Police
Dinner & Dancing
Dazzling Delights:
Gambling and Gaming for Fabulous Prizes
Blackjack, Texas Hold'em, Roulette, "One Armed Bandits" (slots), Keno and more…
Decadent Donuts and Coffee Shots
Donuts, Donut Holes, Cruellers and Long Johns–your choice of baked, fried, filled, frosted, sprinkled, twisted…
Complimentary Beer and Wine
Historic Cleveland Police Cruisers, Silent Auction, 50/50 Raffle
Ticket Information
VIP Tickets include program recognition, private VIP reception from 5:30-6:30 pm in the Cambridge Room and a silent auction preview
Chief's Tables (8 reserved tickets), $2500 ($2250 tax deductible)
Commander's Unit (4 tickets), $1500 ($1350 tax deductible)
Individual VIP Tickets $125 ($100 tax deductible)
General Admission Tickets $75 each
Police Officer/Law Enforcement $50 each
Doors open at 6:30pm for general admission. You do not need to bring a ticket with you. Sign in will be at the door.
For more information or sponsorship opportunities, please contact the Cleveland Police Foundation at (216) 623-3333 or email mjech@clevelandpolicefoundation.org.