The Cleveland Police Foundation proudly announces that the recipient of our Community Partner of the Month Award for August 2020 is H.O.P.E. for Blue.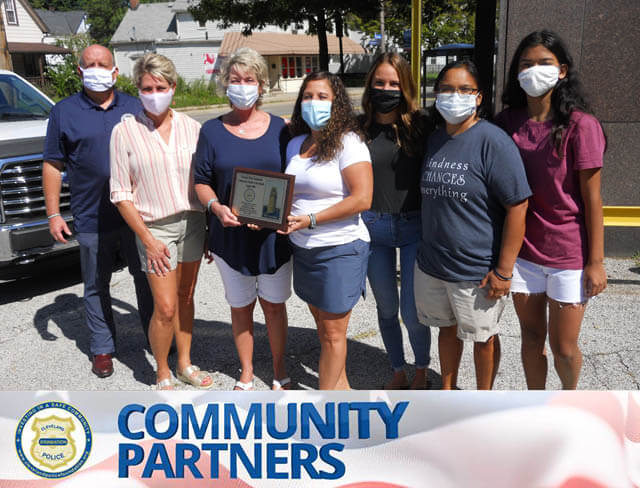 The H.O.P.E. for Blue initiative is a volunteer group that believes in supporting and commemorating Police Officers throughout the state of Ohio through coordinated efforts to honor and recognize these honest, professional, and courageous men and women for their hard work and dedication. Their mission and vision is to show support and respect by honoring police officers and the hard work they do in fighting crime, enforcing laws and safeguarding the constitutional rights of all people, as well as partnering with the communities to spread the message of H.O.P.E. for the police officers and these communities.
Recently, H.O.P.E. for Blue teamed up with Bruno's Restaurante to serve lunch and dessert to our much deserving Second District "Heroes in Blue" and made it a very enjoyable afternoon for all who were able to attend. When asked about this effort, Second District Commander Tom Stacho stated, "On behalf of the Second District officers, I would like to thank H.O.P.E. for Blue for providing lunch and dessert for our officers. Their message of respect for and honoring the many honest, professional and courageous men and women who daily risk their lives in service of our community resonates with our officers and is a sentiment shared by the vast majority of citizens. We truly appreciate their generosity and support."
It is because of their dedication and devotion to law enforcement and what they do on a daily basis that the Cleveland Police Foundation is honored to name the H.O.P.E. for Blue initiative as its Community Partner of the Month for August 2020.