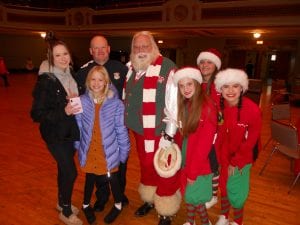 On Saturday, December 7, 2019 the Cleveland Police Athletic League held their 9th annual Christmas Party at the Public Auditorium.
PAL invited children from all neighborhoods in the city to participate in games, train rides, a bouncy house, a visit with Santa and all received a Christmas present. They also had the opportunity to interact with the numerous CPD Officers from around the city that volunteered their time to ensure the kids had a great time.
A big thank you goes out to CPD retired Sergeant Bob Kumazec from PAL, Niko Frangos from the Rascal House for providing the pizza, Cleveland Police Foundation board members Dick Clough and Doug Bugie, and all the CPD officers and volunteers that helped to make this event a success. Oh yes, and thanks to Santa and his elves for taking the time from their busy schedule to speak with the kids and make this day very special for them. See you all next year!
Submitted by Bob Guttu, CPF Community Outreach Coordinator