Ride-2-Achieve is a Cleveland Police-led community bike ride to engage and motivate students to come to school every day and achieve success, both academically and as citizens of their community.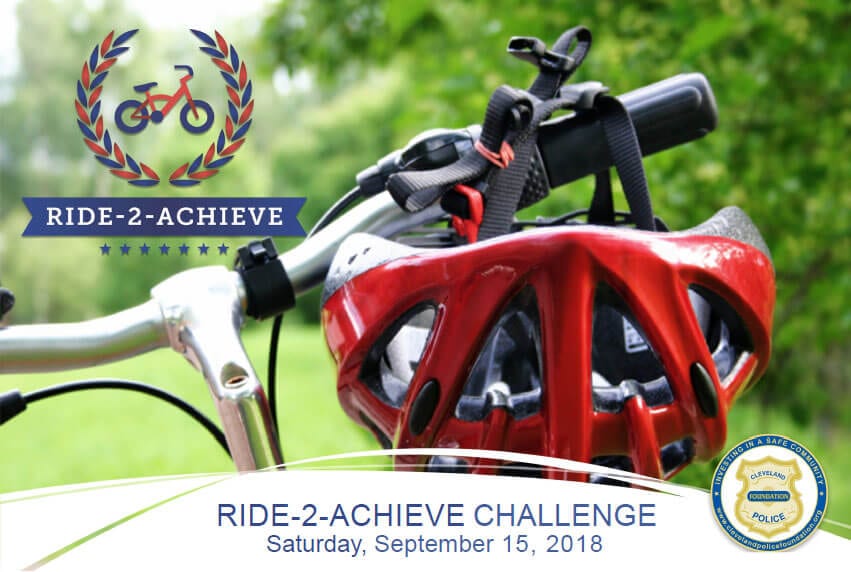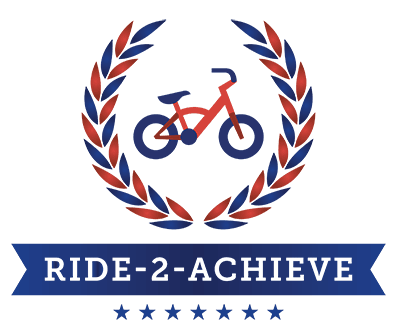 When:
Sunday, September 15, 2018
Kickoff at 9 a.m.
9 a.m. Pre-Ride at 2001 Pain Avenue
9:30 a.m. Registration and Checking at Tremont Montessori
Registration Due Date:
Registration due September 7, 2018
Cost:
$20 includes a General Admission ticket to Cleveland Eats, one food ticket and one non-alcoholic beverage ticket.
For information, please contact Angela Thi Bennett via email or call 216-623-3333.
Itinerary
9:00 am
PRE-RIDE WITH THE CLEVELAND POLICE AT PUBLIC SAFETY CENTRAL
2001 Payne Avenue, Cleveland, Ohio 44114
Registered riders can ride with police officers to the Kick-Off location
9:30 am Onsite Registration & Check-in
KICK-OFF AT TREMONT MONTESSORI ELEMENTARY SCHOOL
2409 West 10th Street, Cleveland, Ohio  44113
10:30 a.m. – Opening Ceremony
11:00 am – Rolling Start
REST STOP AT DANIEL E. MORGAN ELEMENTARY SCHOOL
8912 Morris Court, Cleveland, Ohio  44106
Duration: approximately 20 minutes
(Water and snacks provided)
CULMINATE AT CLEVELAND EATS CULINARY FESTIVAL ON MALL B
300 St. Clair Avenue, Cleveland between the Global Center for Health Innovation and Cleveland Public Auditorium
Community of Champions
Captured on Video…
---
Sponsorship Opportunities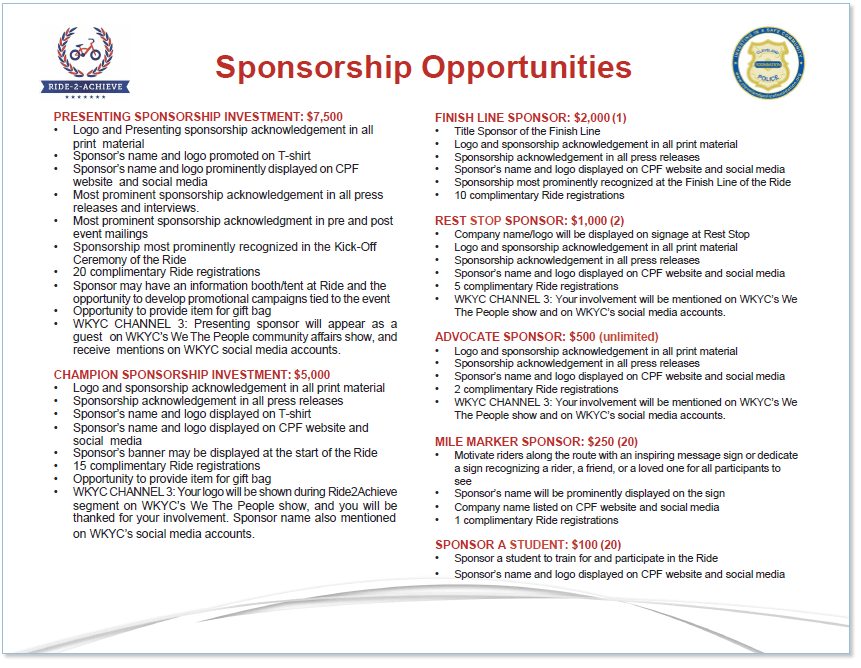 More sponsorship details (pdf)
---
About the Ride-2-Achieve Challenge Program
The Ride-2-Achieve Challenge Program is a citywide bike tour led by police officers from the Cleveland Division of Police. This is a collaboration between the Cleveland Police Foundation, the Cleveland Division of Police, Cleveland Metropolitan School District – Safe Routes to Schools, WKYC-Channel 3, and Little Giants Gym.
The mission of the Ride-2-Achieve Challenge Program is to promote safer, healthier communities by encouraging students in grades K-8 to safely walk or ride their bicycles to school and to build community trust between police officers and our youth. As a Community of Champions, we strive to engage and motivate children in grades K through 8 to increase achievement in the areas of attendance, academics and citizenship.