The Cleveland Police Foundation is honored to recognize Patrol Officer Orlando Velazquez as the May 2022 Police Officer of the Month.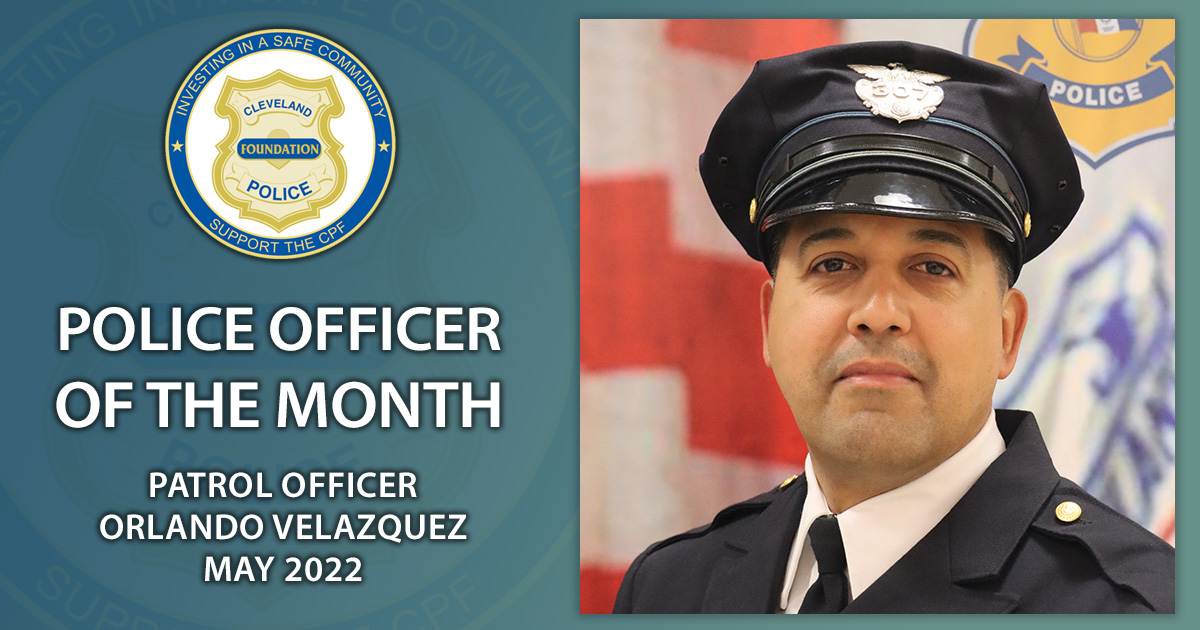 Patrol Officer Orlando Velazquez has worked in the 3rd District Downtown Service Unit for almost 14 years. Though he recently took an opportunity to work at the Crime Scenes Unit, he built countless relationships with downtown businesses and citizens during the decade he worked there. He is well known in many businesses downtown, serving the heart of the city in true community building style. He would often give his personal cell phone number to businesses who would call him many times for guidance or just suggestions on how to keep their business safe. He has worked part time in Rocket Mortgage Field House and various downtown commerce, further building relationships in the community.
When asked about Officer Velazquez's work ethics, Laurie Torres, the owner of Mallorca in Cleveland's downtown warehouse district stated, "I have seen many changes in the city, but one thing that has not changed is the city's commitment to safety. For me safety has always been associated with the officers who kept me, my staff and my business safe. In the years that Orlando was assigned to us he became less our safety patrol and more like our family, and like family he never wavered in his commitment to us and to the city's safety. Whether it was a call about a wayward homeless person or a person whose desire for 'spirits' over took their ability to reason. I always knew Orlando would be there in an instant to help us navigate the situation with a steady and empathetic hand. It is an honor to know Officer Orlando Velazquez, and a privilege to call him friend."
It is because of his dedication to his profession and community that the Cleveland Police Foundation is indeed honored to name Patrol Officer Orlando Velazquez our Police Officer of the Month for May 2022.
The May Police Officer of Month was nominated by Patrol Officer Freddy Diaz.

More about the Police Officer of the Month Program . . .