The Cleveland Police Foundation is honored to recognize Sergeant Rochelle Bottone as our July 2019 Police Officer of the Month.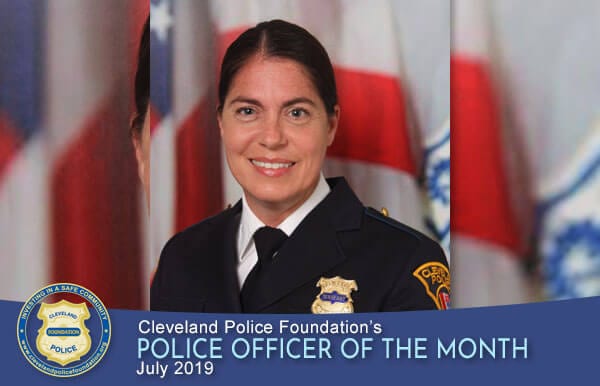 Recently, First District Sergeant Rochelle Bottone had the pleasure of meeting a resident of West 146th Street.  This neighbor wanted to show his appreciation to all the Cleveland Division of Police officers by displaying a law enforcement flag in his yard. Sergeant Bottone was able to procure a flag and dropped it off at his house. On a subsequent visit to the man's home, the sergeant discovered that the man's therapy dog would sometimes leave the backyard through a hole in the fence.
Sergeant Bottone recruited other officers from the First District. They returned to the man's property and not only repaired the fence but cleaned up the entire yard!
When asked about this unselfish gesture, First District Commander Daniel Fay stated, "Kudos to Sergeant Bottone for initiating this action and thanks to Detective Adams and officers Nuti, Hoban, Adams, Turner, and Zak for representing the true meaning of 'To Serve.'
It is because of her caring for her fellow man and devotion to her duties that the Cleveland Police Foundation is proud to name Sergeant Rochelle Bottone as its Police Officer of the Month for July 2019.  Also, a big thanks to all the officers who assisted!