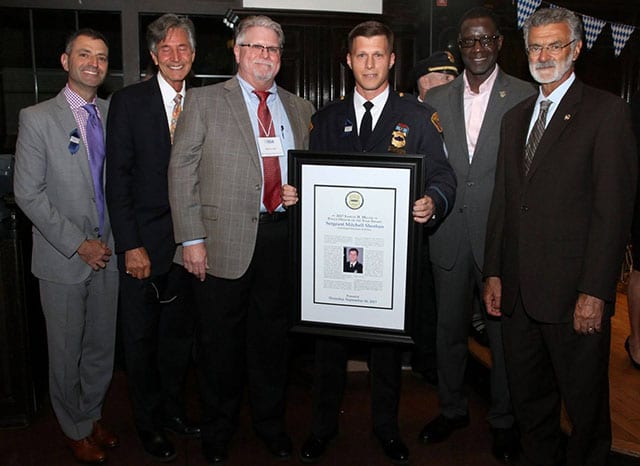 Nationally, law enforcement officers regularly give back to the community, and the vast majority of the time their acts of kindness and goodwill go unrecognized. And that's how they prefer it … no fanfare or recognition.
This year's CPF Police Officer of the Year, Sergeant Mitchell Sheehan certainly fits that mold. In February 2016, he was recognized as the CPF Police Officer of the Month for organizing a clothing drive for a men's homeless shelter in the 2nd District. Wanting no recognition, Sheehan stated at the time that all the credit belonged to the officers of the 2nd District and their families and friends who pitched in to help. Though it's true the success of that campaign was due to the support of his fellow officers and the community, by taking the lead in initiating and organizing the effort, he made it possible to help many people in need.
The clothing drive has become an annual event that has grown in size and impact, involving officers citywide and beyond and through social media, people from as far away as Florida have sent items each winter. Over the last three winters, the campaigns led by Sgt. Sheehan have distributed over 5,000 new pairs of socks, over 1,000 sets of underwear, and countless sets of gloves, scarves, hats, jackets, and blankets to the homeless population, shelters and families in need.
Born and raised on Cleveland's west side, and a 1998 graduate of Holy Name High School, Mitch was appointed Patrol Officer for the City of Cleveland in 2006. After completing the academy, he was assigned to the 6th District where he worked in Basic Patrol and the Community Services Unit. In 2013, he was promoted to sergeant and transferred to the 2nd District, with assignments in Basic Patrol, Community Services Unit, and currently heads the 2nd District Vice Unit.
In recognition of his on-going commitment to the philosophy of community policing, and efforts above and beyond the call of duty in helping fellow citizens in need, we are honored to name Sergeant Mitchell Sheehan as the recipient of the 2017 CPF Samuel H. Miller Police Officer of the Year Award.