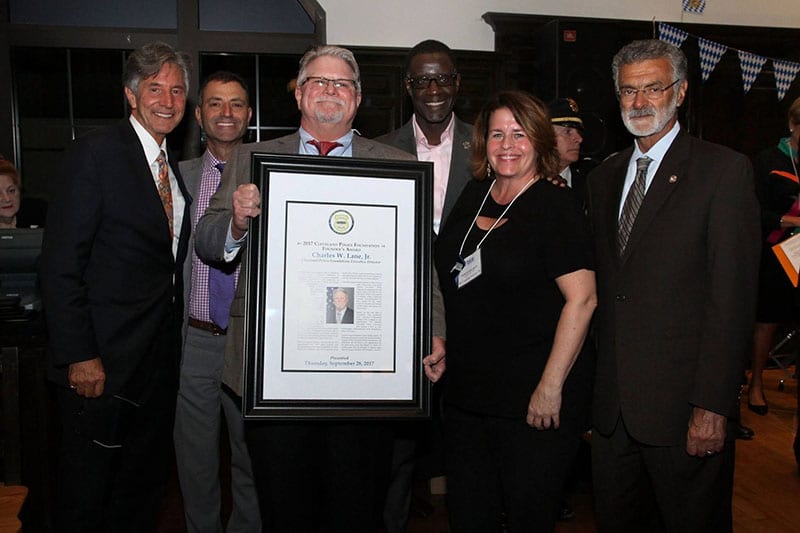 In 2012 during its inaugural year of operation, the CPF Board of Directors established its annual Founders Award to recognize exemplary leadership, performance, and dedication to furthering the organization's ideals and mission to support the members of the Cleveland Division of Police, its charitable endeavors and forge stronger bonds with the community.
This year, we are honored to name Charles W. Lane, Jr. as the 2017 recipient of the award in recognition of leadership in taking a new organization to what it is today.
In 2011, then-Chief Mike McGrath asked "Chas," as he is know by many, and who recently retired from the Division, to lend his talents in helping to establish the CPF as the official charity for the Division. The Board of Directors offered Chas a part-time position as Executive Director and he soon was working full-time hours to get the fledgling organization up and running.
With the support of many amazing people and organizations, the CPF's rapid progress and accomplishments has been remarkable. In 2016, Chief Calvin Williams said, "In its relatively short history, the CPF has made extraordinary progress strengthening the bonds that tie the community and the Cleveland Division of Police together."
One of the original board members, VP Jim Craciun said, "Chas Lane, a decorated retired Cleveland Police Sergeant has dedicated the last 7 years of his life for our Cleveland Police Foundation! A brilliant writer, dedicated steward, and peacemaker, he has worked for the valiant cause of our men and women in blue above and beyond the call of duty!"
Chas was raised on the east side of Cleveland, graduated from Lakeland Community College with a degree in law enforcement, attended Cleveland State University and earned a B.S. in Law Enforcement Administration from Youngstown State University.
Current board President Grant Dinner stated, "It has been a pleasure to work with Chas in his endless support of the Cleveland Police Foundation. His dedication and devotion to the organization for the past seven years has helped us fulfill our mission goal. We are honored to bestow upon Chas. W. Lane, Jr. the 2017 CPF Founder's Award."