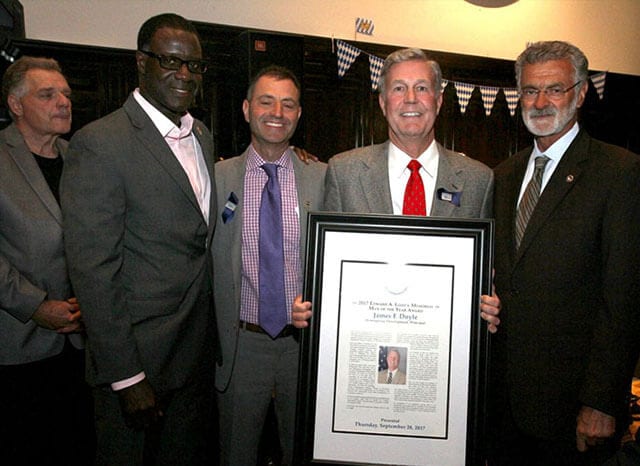 Each year, the Cleveland Police Foundation recognizes an individual who through their business acumen, philanthropy and commitment to giving back to the community makes a significant impact in our region. We are honored to recognize Mr. James F. Doyle as our 2017 Man of the Year.
Born and raised in Cleveland, Jim has been active in commercial real estate for over 40 years. Starting in the commercial mortgage banking business, Jim cofounded Capstone Realty Advisors. Under his leadership, the company grew to 8 offices in 5 states with over $ 2 billion per year in loan production and a servicing portfolio of over $10 billion.
In 2008, Jim joined forces with Fred & Greg Geis to form Hemingway Development. This trio made a commitment to help re-build Cleveland, the city where all three grew up; and build and redevelop they did. As of this date, they are responsible for over $200 million of development in 19 complexes totaling 2,500,000 square feet. A sample of their work includes projects such as: The 9 Apartments & Hotel, the Cuyahoga County Administration Building, Heinen's downtown grocery store, 1010 Euclid Apartments, and the MidTown Tech Research Park. Additionally, several major developments are in progress or planned.
Jim's peers recently recognized his significant accomplishments in the business world when he received the "Life Time Achievement Award" from the National Association of Office and Industrial Parks.
He and his wife Patti have raised 4 children, 3 of which reside in Cleveland and are with us tonight. Jim and Patti have been further blessed with 11 grandchildren.
His activities are not limited to just his career. Over the years Jim has supported the schools that were educating their children, including serving on the boards of Beaumont School, Gilmour Academy, along with being past president of the Father's Club at St. Ignatius High School. He also chaired the Planned Offering Program at his church and is a member of the 1831 society at his alma mater Xavier University.
In December 2016, Jim decided that he and his family would like to do something to help people, which might benefit from an unexpected gift from a stranger during the holiday season. He contacted Chief Calvin Williams to offer an idea of a "Secret Santa" event with two goals. First, the police would help identify people in need throughout the City and have the officers spread a bit of holiday of cheer by giving them a $100 gift card. Second, through this giving, help foster a stronger relationship between police and the citizens.
One can only imagine the reaction of those receiving the gifts from the officers. The smiles and hugs were abundant. This most generous act by the Doyle's had other rewards as well, including their own amazement by witnessing some of the reactions to the many random acts of kindness they made possible; and the officers themselves, stating what a great time they had, including one veteran officer stating it was the best thing that's happened in his entire career.
In recognition of his generosity and giving back to the community, support for the members of the Cleveland Division of Police above and beyond the call of duty, we are honored to bestow upon Mr. James F. Doyle the 2017 Edward A. Lozick Memorial Man of the Year Award.