The 11th Annual Gun Buyback will be held on Saturday, October 21, 2017.
The Cleveland Police Foundation is pleased to announce that ArcelorMittal has provided grant money for the 11th Annual Gun Buyback Program to be held on October 21, 2017 from 9 a.m. to noon. The event will take place at the Cleveland Department of Police 3rd District Headquarters on 4501 Chester Avenue. With the funds from the grant, the Cleveland Police Foundation in partnership with the Cleveland Division of Police will collect, inspect, catalog, and prepare the guns received to be disposed of properly.
In 2016 168 guns were collected, thereby eliminating the chance for any of these weapons to be used to commit a crime, or to discharge accidentally and cause potential harm or even death. Upon hearing of the donation of funds Charles Lane, Executive Director of the Cleveland Police Foundation stated, "Once again, ArcelorMittal has demonstrated to the citizens of the City of Cleveland that they are an outstanding corporate, city and community partner." When reached for a comment on their generosity, Mike Madar, ArcelorMittal's Vice President and General Manager stated, "ArcelorMittal has been a longtime supporter of the Cleveland Gun Buyback program. It aligns with the culture of health and safety we have within our facility, and we are pleased to partner with the community to promote safety in our neighborhoods. I know this program has the potential to save lives. We will melt down the weapons collected in the gun buyback and recycle them into new steel, transforming them into consumer goods that improve the quality of all our lives."
---
Recap on 2016
Last year's was a huge success! Another 168 guns were exchanged for gift cards, making the total 3,076 removed from the City's neighborhoods since the program's inception. Thanks to all who support this effort to make our community safer.
In an effort to improve neighborhood and residential safety, the City of Cleveland with the support of its community partners conducts its annual gun buyback.
The program allows citizens to dispose of unwanted operable firearms in a safe, secure and anonymous manner while receiving gift cards and tickets to professional sporting events and leave with the knowledge that the weapons will not fall into the wrong hands … to be used to perpetrate violent crimes or result in accidental injury or death if improperly handled. An added bonus is the weapons are melted down and recycled into steel for producing appliances, vehicles and other household products.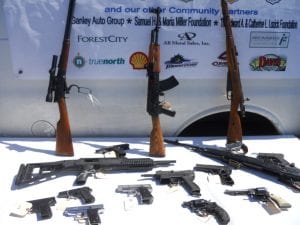 Funding is made available through grants and donations from corporations, organizations, businesses and individuals.
Chief Calvin Williams states, "We know that as a result of this program someone's life will be saved, and we are encouraged that the police and community are working together to get these guns off the street."
Since its inception, nearly 3,000 of firearms have been removed from the community.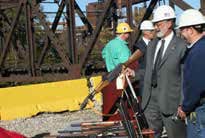 ArcelorMittal, one of leading steel manufacturers in the world and its employees have been ardent supporters since the program's inception, providing grants to allow for the purchase of gift cards to "buy" the firearms, and also melting them down into recycled steel at its Cleveland mill.
Other key supporters are Dave's Markets, TrueNorth Shell, the Cleveland CAVS, Gladiators and Monsters, and individual donors.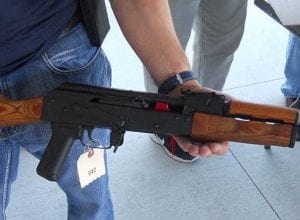 On behalf of the entire community, our sincere thanks to ArcelorMittal and all our community partners supporting the mission of the CPF.
A member of our staff is happy to discuss how you, your company, or foundation can invest in making our community safer. To learn more about our programs and giving opportunities, please contact us at 216-623-3333, or info@clevelandpolicefoundation.org.
November 29, 2016 Press Release: "Guy Buy Back Announced"
Archive of Previous Years' Buybacks