Our signature annual event "Tribute to the Blue" is coming September 28, 2017 at the Hofbrauhaus Cleveland. We heartily welcome your financial support for this entertaining evening!

Become a Sponsor: Opportunities from $10,000-$500.
Buy a Table: Opportunities from $2,500-$1,500 VIP level.
Sponsor a Survivor and guest: $500 VIP level.
Sponsor a Police Officer and guest: $500 VIP level.
Levels & Amenities Mail-in Pledge Form Event Details
To Become a Sponsor
To become a sponsor, please fill out and mail in the sponsorship pledge form, or call Barb Ragon at 216-924-8024.
Dear Community Partner,
With your support today, we can build strong bonds between the police and the citizens they serve!
The Cleveland Police Foundation was founded in 2005 as an alliance of business and civic leaders, individuals and organizations committed to strengthening the bonds between the Cleveland Division of Police and the citizens it serves. Sometimes special bonds are formed as the result of a tragedy, as Steve, a Cleveland resident wrote to the Cleveland Police Foundation saying, "Thank you so much for the generous gifts for the little girl who lost everything in the arson fire. The family was speechless and quite impressed with the outpouring of support, especially from the police. Your organization is truly amazing!"
On Thursday, September 28, 2017 the Cleveland Police Foundation will host its Tribute To The Blue Celebration at the Hofbrauhaus Cleveland. Join our Honorary Chairs Cleveland Police Chief Calvin D. Williams, Chief Edward P. Kovacic (retired), and Ohio State Representative Thomas F. Patton for an evening to celebrate and recognize the contributions made by community leaders and our men and women in blue.
Recognition includes Mr. James F. Doyle – Man of the Year, Sgt. Charles W. (Chas) Lane Jr. – CPF Founders Award, Cops, Kids & Christmas Program – Community Service Award, Sergeant Mitchell Sheehan – Officer of the Year, and the 2017 Police Officers of the Month.
We are asking you to join us as a Sponsor of the Tribute To The Blue Celebration. Together we can continue to fund​ and assist our police officers in their efforts to provide exemplary service to the community and support their charitable outreach efforts.
A list of sponsorship opportunities is provided here for your review. Your support is critical to the mission of the Cleveland Police Foundation. For your convenience a sponsor form is available here. Please complete and return it by September 1, 2017. Should you need additional information, please feel free to contact Barbara Ragon at 216-924-8024.
On behalf of the Cleveland Police Foundation, I thank you in advance for your support and working together to with you to build a stronger community.
I look forward to seeing you September 28.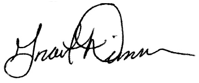 Grant Dinner
President, Board of Directors
Cleveland Police Foundation