CPF Police Officer of the Month Award Recipients
2017 CPF Police Officer of the Month Award Recipients
Recipients will receive a personal plaque in recognition of their good deeds, and perpetual plaques will be displayed at Cleveland Police Headquarters, the offices of the Cleveland Police Patrolmen's Association, and the Fraternal Order of Police Cleveland Lodge 8 where they will serve as an inspiration to others.
January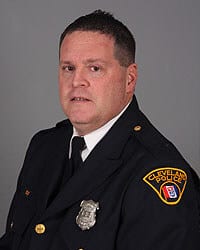 Kevin Callahan
Detective, 4th ​Neighborhood Police District​
De​t. ​Kevin Callahan is a​ ​​great ​example of police​ ​officers​ ​ embracing the ​philosophy​ of ​​community ​​policing. As a missing person specialist​, with most of his investigations involving children, Det. Callahan wanted to educate the school children in the 4th District about safety. To do this he ​visited and spoke with ​students and ​staff​ ​during their lunch period. His ​goal​ is to reach as many kids as​ possible​ with monthly visits and he continually works towards maintaining a positive ​ relationship with the ​school ​ children and ​staff. ​For ​ his devotion ​to duty, especially ​ensuring ​ the ​safety of our ​children​,​ ​the Cleveland Police Foundation ​is honored to recognize Det. Kevin Callahan as its ​ Police Officer ​of t​he Month for January​,​ 2017.
February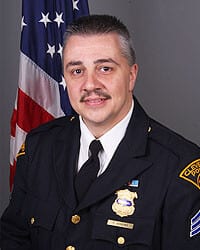 Sergeant Tim Higgins
Bureau of Community Policing
Sgt. Tim Higgins is a tireless advocate of the philosophy of community policing. Whether on-duty or off​,​ he promotes its core principles by putting them into action. While directing the Cops for Kids program, he ​works with fellow officers​ throughout the City​ ​to ​r​ender​ assistance to ​kids and ​ families in need​, creating positive interactions and developing lasting relationships with the community they serve. He ​ recently ​organized ​ a raffle to raise ​funds​ ​or the Cops for Kids program making ​it ​ possible to further the Division's community engagement and fostering goodwill.​ For his commitment to ​aiding ​ ​his fellow citizens, especially our children​, and for ​helping​ ​fellow officers forge stronger bonds with the community​,​ ​t​he Cleveland ​ Police ​ Foundation​ is honored to recognize ​Sgt. Tim Higgins as its Police Officer of the Month for February, 2017. ​
MARCH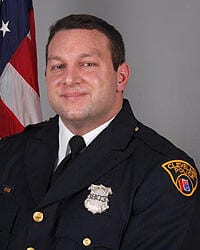 Robert Norman
Detective, 2nd Neighborhood Police District
Detective Robert Norman​ has displayed tremendous work ethic and ​ investigation​ skill​s ​ in his daily duties​. Recently ​he​ spearheaded several investigations, including the execution of 7 search warrants which led to 20 ​felony drug arrests​, the seizure of​ 9 firearms​​, ​and a large quantity ​ of heroin​ and​ crack cocaine​. Norman's compassion for the people in the community is evident, as he is responsible for connecting the Cleveland Police Foundation with ​ one ​of its most​ precious community partner​s​, Onix Outreach. ​The team at ​ Onix Outreach provide assistance to the underserved, responding ​ with the resources needed to​ help​ their fellow citizens. These connections have led to an improved relationship between the police and the community they serve. ​For his dedication to duty and compassion for his fellow citizens, the Cleveland Police Foundation ​is honored to recognize Det. Robert Norman as its Police Officer of the Month for March​, ​2017.
APRIL

Patrol Officers Christopher Eaton and Michael Ryan

While on patrol downtown Patrol Officers Christopher Eaton and Michael Ryan encountered a woman who had been kicked out of her vehicle by her husband after an argument. As she was not wearing suitable clothing for the cold weather, they offered her a ride home. While doing so, they learned the woman had been on her way to a plasma center where she had planned to donate blood in order to earn enough money to buy diapers for her child. After hearing this, they stopped at a store, purchased diapers and gave them to the women. That is just one example of the manner in which they approach their work. While assigned to the downtown event zone during the Republican National Convention, their knowledge of the area and positive communication skills made them a tremendous asset to the Event Zone Commanders. Their professionalism and compassionate service to all they encountered helped the 2016 RNC to be recognized as one of the most successful and safest in history. For caring and personal assistance to a fellow citizen in need, as well as promoting the core principles of community policing, the Cleveland Police Foundation is honored to recognize POs Michael Ryan and Christopher Eaton as the Police Officers of the Month for April, 2017.