CPF Community Partner of the Month Award Recipients
2018 Community Partner Award Recipients
The Cleveland Police Foundation has implemented the Community Partner of the Month Award, given to individuals from the community who strive to support the mission goals of The Cleveland Division of Police and the CPF. These good folks support law enforcement and continue on a daily basis to help improve their individual neighborhoods. Award recipients receive a plaque and appropriate recognition. Thank you to these achievers!
February

Community Partner of the Month

Alice Wegrocki and Rose Roy, Volunteers, Cleveland Police Foundation

Alice Wegrocki and Rose Roy have been tireless volunteers for the Cleveland Police Foundation for the last four years and are always available to help at a moment's notice. Whether it is cooking pancakes for senior citizens or grilling hot dogs at community events there is nothing these two devoted individuals won't do to help bring the police together with the community. Both Alice and Rose make it a point to attend nearly every Cops for Kids event or CPF fundraiser, where their duties include setting up, taking down, and running the event,  and they are ever supporting it financially. It is because of the dedication and selflessness of these two individuals that the Cleveland Police Foundation is able to actively fulfill our mission of ensuring safety to our neighborhoods and strengthening the bond between members of the Cleveland Division of Police and the residents they serve.

The Cleveland Police Foundation proudly announces that the recipients of our Community Partner of the Month for February 2018 are Alice Wegrocki and Rose Roy.
January

Community Partner of the Month

Mike Duda, Sports Focus Sporting Goods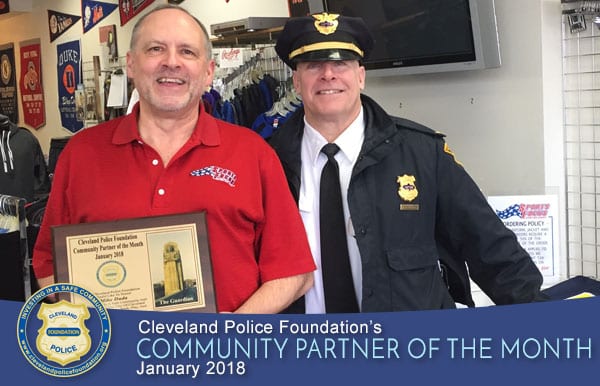 Mike Duda, owner of Sports Focus Sporting Goods, 6659 Pearl Rd. #103, has been an incredible partner and donor to the Cleveland Police Foundation over the last several years.  Mike has donated thousands of dollars in new clothing and sports equipment to the Foundation for distribution by Cleveland Police officers throughout the city.  This has enabled us to help our recreation centers and local sports leagues with football and baseball equipment and uniforms, and people who are homeless and needy with much appreciated warm winter clothing.  Mike provided hundreds of pairs of socks to refugee students at Thomas Jefferson International Academy, many of whom came to this country with little or no cold weather clothing.
As Mike puts it, "I started donating to the Cops and Kids program over 20 years ago [and now have the] opportunity to expand the type of donations I can provide.  I trust the Cleveland Police Foundation and Captain Sulzer to distribute to those with the greatest need.  I live in the city of Cleveland and strengthening the bonds between the Cleveland Police and our community is important to all of us.  I encourage others to help as they can."
For his devotion to the community and the CPF we are honored to bestow upon Mike Duda the Community Partner of the Month for January 2018.